9 Ways D-Mar Keeps The Jobsite Safe, Healthy, and Productive During COVID-19
Safe and healthy makes everyone productive
October 2020
Hard hats, rental equipment, material deliveries, site logistic plans, construction signage, safety protocols, coordination meetings, personnel coming and going, subcontractors performing work. All these themes contribute to a standard bustling construction jobsite.
In open-air environments like construction sites, the virus's spread may not be seen as having an enormous impact. However, one positive case can lead to a lasting negative effects on a project's health, and even cause a jobsite shutdown.
Doreen Caudell, owner, licensed general contractor, and CEO of D-Mar has expertly managed construction projects across the country. That said, she offered some insight into managing construction projects during the coronavirus pandemic. "No two construction projects are the same. What is available and feasible in one project might not be for the others. It all depends on the work tasks involved in the project. Those of us in construction leadership roles are well acquainted with this information and know how to handle jobs that require extra safety precautions."
The United States Department of Labor has divided work tasks according to exposure risk levels, which are as follows:
Caution Levels

Lower
Medium
High
Tasks in which employees can maintain a distance of 6 feet and those involving minimal contact with other workers, visitors, customers, and the public.
Tasks in which workers are within 6 feet of distance from each other. If the task requires close contact, then management should think about delaying it unless absolutely necessary. Then, make sure that the workers are in full PPE gear.

Tasks in which workers have to enter an indoor worksite occupied by other workers, residents, or customers suspected of having COVID-19.

If it is reported that the occupant has been showing some of the signs consistent with COVID-19, then a decision should be made whether to delay the work or think of another solution.
The Changes in the Construction Industry
Occupational Safety and Health Act of 1970
"To assure safe and healthful working conditions for working men and women; by authorizing enforcement of the standards developed under the Act; by assisting and encouraging the States in their efforts to assure safe and healthful working conditions; by providing for research, information, education, and training in the field of occupational safety and health."
As we've seen, COVID-19 has the potential to wreak havoc, even in small groups. Hence, OSHA recommends that workers are trained on all safety and health hazards when entering a work environment.
An outbreak can lead to absenteeism, interrupted supply and delivery, and slower sales due to changes in commerce patterns. While the former two problems can be controlled, the latter requires leaders to make changes in their goals.
The construction industry faces many challenges right now. We have seen management issues in the supply chain area, and massive layoffs bring projects to a grinding halt in a matter of days. New business is slow to come by because, and current projects are facing numerous delays. At a time like this, D-Mar's leadership and team see this as an opportunity to lead by example.
Steps to Take to Ensure the Safety of Jobsites
D-Mar crafted a simple, effective plan to ensure the health, productivity, and safety of each project.
D-Mar's Action Plan
Stay up-to-date with guidance laws set by the local, federal, state, and health agencies.
Incorporate the resources and recommendation into workplace-specific plans.
For each job, task, and action, address the associated level of risk and any necessary measures to mitigate specific risks.
Promote necessary precautions wherever possible, including distancing, masks, and hand washing.
Provide workers with hand sanitizers and install wall sanitizers at entry and exit points to ensure that all visitors and workers are entering and exiting have access.
Encourage respiratory etiquette, such as covering sneezes and coughs.
Workers are instructed to wear face coverings at all times in less populated areas, whereas those in close proximity or confined spaces are given N-95 masks.
Regular temperature checkups to ensure workers are not getting sick on sites.
Sends workers home if they are sick.
Maintain a Healthy Work Environment
In November, the City of Madeira Beach selected D-Mar as the general contractor to complete the city's City Hall First Floor build out project. This site offers unique challenges in terms of implementing coronavirus precautions due to the jobsite's compressed footprint and public access. "Situated underneath the existing City Hall structure, we have to build out their first floor plan while maintaining the public's access to their city hall," said Stewart Redden, Director of Operations at D-Mar. "Developing a site utilization plan, consistent with the City's needs, the public's needs, the jobsite's needs, all while maintaining social distancing and other coronavirus precautions was our goal and I believe we'd pulled it off", he went on to say.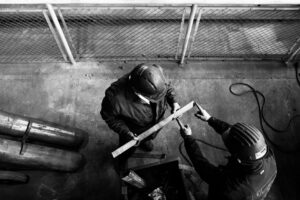 Of course, at construction sites, D-Mar ensures that all the workers involved on a project are properly vetted and checked at each shift's beginning. Each worker goes through a system of checks that ensure the job site will not be contaminated.
Plastic sheets are hung to divide groups of 5 to maintain the CDC-mandated 6ft distance. Workers handling a particular task are delegated to one corner of the construction site to prevent cross-contamination if they do get sick.
Other guidelines that are followed include:
Limiting unnecessary movement of employees to other departments
Work schedules are modified by offering alternating workdays.
"Essential Personnel Only" signboards are placed on all levels of the construction site.
Administrative workstations are rearranged to maintain social distancing.
Additional barriers are installed where necessary.
Instruct Employees to Wear Gloves and Masks at All Times
CDC recognizes that COVID-19 transmits in clusters. Hence, wearing a mask has become a necessary precaution. In the construction industry, employees are recommended to wear working gloves to avoid blisters and other skin injuries. Workers in other areas where less manual labor is required should also be given gloves to limit the spread. The transmission of the virus onto objects that are handled by multiple workers increases the risk of getting infected.
Regularly Disinfect All Stations
At the end of each day, commonly used surfaces and equipment should be sanitized. Employ guards at the construction site entrance to make sure there are no unwanted visitors after hours who might contaminate the site.
Take Temperature at Entrance
Keep a temperature log of employees to record any spikes that might occur during work. Now that the Equal Employment Opportunity Commission (EEOC) has allowed companies to take their employees' temperature, it has become relatively easy to screen employees for the primary symptoms of COVID-19. The ideal temperature range is between 36.5°C (97.7°F) and 37.5°C (99.5°F). The employee should be sent home for getting even a point higher. Temperature checks should be done early in the morning, in the afternoon, and when going home.
In situations where emergency work is required, employees should wear PPE to prevent the virus's spread. A room should be designated for employees to wash and sanitize their hands before entering the commercial building where other employees are working.
D-Mar is a woman-led and family-owned. The values that have guided our firm for nearly 40 years guide us in ensuring a safe and healthy work environment for all. During this time of extreme caution and uncertainty, it is at the heart of our practice to protect each person and project from risk.
D-Mar is a commercial general contracting firm that offers a variety of services like design-build, construction management, and HVAC/Mechanical. The company is known for handling unique projects and delivering innovative solutions.
If you plan to make some additions to your commercial building in compliance with CDC and OSHA-mandated COVID-19 safety standards, get in touch to discuss how we can meet stringent requirements and overcome challenges to make your project a success. For further information, call on (727) 461-4760.
"Doreen's positive personality and commitment to customer satisfaction is reflected throughout her organization. These attributes have led to a satisfactory experience each time we have engaged her company."
Richard Demers: Dunkin Donuts' Franchise
"Doreen is a terrific, motivated highly disciplined lady of the absolute highest integrity. She approaches everything that she does with passion, but also with an enormous heart."
Fredric Zinober – Partner/attorney at Quintairos, Prieto, Wood, & Boyer, P.A
"It does not get any better!!! When you want the attention and detail that you should have - call D-Mar."
Susan Gaddis – Clearwater Beach – Island Estates – Belleair Beach Realtor